Featured Alumni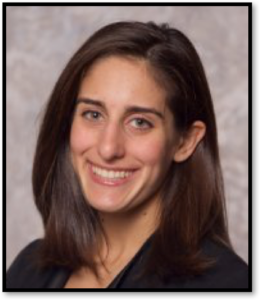 Sylvia Zhorabian, M.S.
Research Associate, Department of Cardiology, Boston Children's Hospital
Georgetown University, M.S. Class of 2015
What can I say about my experience at Georgetown? Upon entering the program, I had no idea that 9 months could drastically alter my life. Prior to entering the program, I was unsure whether to pursue my interest in healthcare as a scientific researcher or physician. As a result, I discovered the M.S. in Biochemistry and Molecular Biology at Georgetown, which seemed like an appropriate program to access both avenues through their extensive research available and association with the MedStar hospital system.
During this 9-12 month program, you're challenged to complete 30 credit requirements and a graduate research study internship. Although this might seem daunting at first, the Georgetown faculty and peers make the workload very feasible. The highlight of my experience was my research study in Dr. Vicente Notario's laboratory. When I entered Dr. Notario's office, I discussed my research interest of understanding the expression of metabolites in relation to cancer and my background as a DMPK analyst at GSK. As a result, Dr. Notario and myself developed a project connecting my research interests and background with his current work. In addition to being able to collaborate with a mentor to develop a project that suits my research interests, Dr. Notario, through his extensive years as a well-respected researcher at Georgetown, has established many contacts in various organizations, one of which was Dr. Yamil Simon from the mass spectrometry core at NIST. Dr. Notario's relationship with Dr. Simon allowed the project to be a dual collaboration between Georgetown University and NIST. As a result, I had the pleasure of utilizing the databases and resources at both the Georgetown campus and NIST. This collaboration between Georgetown and NIST allowed me to experience and compare the academic and government environments.
My experience at Georgetown verified my interest to pursue biomedical research and health advocacy as a profession. Upon graduating, various pharmaceutical companies, biotech companies, and academic institutions pursued me. Due to my previous experience at GlaxoSmithKline, I chose to accept a highly coveted position at Boston Children's Hospital understanding the role of the Hippo-Yap pathway in cardiomyocyte regeneration, which has resulted in my recent contribution and publication of a Developmental Cell paper. I'm thoroughly thankful for the opportunities that Georgetown provided me, in particular, my relationship with Dr. Notario and his continued mentorship after completion of the program.
---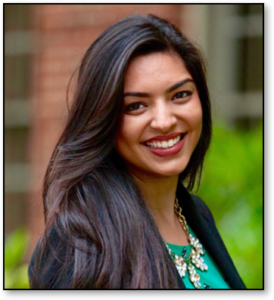 Sumati Hasani, M.S.
Associate Scientist, MedImmune / AstraZeneca, Gaithersburg, MD
Georgetown University, M.S. Class of 2016
Hello, my name is Sumati Hasani and I graduated from the M.S. Biochemistry and Molecular Biology program at Georgetown University in May 2016. Prior to attending Georgetown University, I worked at Novozymes Inc. as a Research Assistant; my project focused on developing a second-generation biofuel screening assay under the funding of the Department of Energy. While I enjoyed the molecular biology techniques and laboratory aspects of the work I was doing, the bio-agriculture application was not of particular excitement to me. In hopes of learning more about health-focused research, I applied to universities with a strong sense of clinical and translational focus. Georgetown University stood out to me because of its strong affiliation with the Lombardi Cancer Center; seeing that Tumor Biology was one of my potential interests at the time, Georgetown fared very high on my list of institutions.
My time at Georgetown University was fast-paced, demanding, and yet extremely rewarding. I was introduced to a plethora of health-related fields of science that piqued my interest: I resonated with the topic of carcinogenesis and therefore selected my elective courses to reflect my passion for the subject. For my internship requirement, I chose to work on evaluating gene expression levels in Melanoma Initiating Cells (also known as Melanoma Cancer Stem Cells) as compared to a parental tumor population under Dr. Rosenthal. The combination of comprehensive coursework with a wholesome internship experience gave me a solid foundation of laboratory techniques for a health-related application that indeed makes my synapses go.
Post-graduation, I was able to confidently apply to Research and Development positions at multiple pharmaceutical companies. I currently work as an Associate Scientist at MedImmune/AstraZeneca focusing on Antibody Development using Phage Display Technology for oncology therapies. This position is a perfect marriage of the molecular techniques I had acquired from my previous employment opportunity with the knowledge I gained from my time at Georgetown. Attending the Biochemistry and Molecular Biology program at Georgetown University propelled my career towards science that I am truly passionate about.
---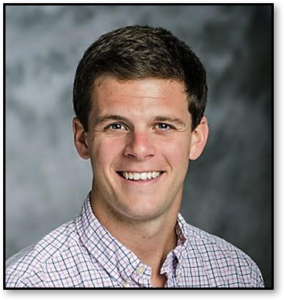 James Jackson, M.S.
Clinical Research Assistant/Asthma Educator, Children's National Medical Center, Washington, DC
Georgetown University, M.S. Class of 2016
The program was exponentially helpful in giving me a variety of research experiences alongside a dynamic curriculum that was integral in helping me decide on a career path and what research interests to pursue. In addition to the coursework, I will forever cherish my friendships forged with friends from around the globe and look forward to hopefully working with them again down the road.
---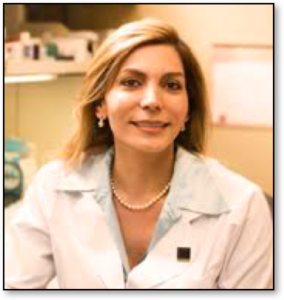 Annahita Sarcon, M.D.
Resident, Internal Medicine at Scripps Health, La Jolla, CA
Georgetown University, M.S. Class of 2006
Attending Georgetown University has allowed me to not only accomplish my career goals but also to solidify my lifelong dreams. I enrolled in the Master's program in Biochemistry and Molecular Biology in 2005 and the opportunities to explore and advance were readily available to me from the start. I was able to obtain prestigious fellowships at NIH and successfully publish my work. In 2008, I was accepted to medical school and pursued my lifelong dream of becoming of a physician. This would have been simply impossible without the guidance and support of my mentors at Georgetown University. Aside from professional opportunities, the faculty and staff have been tremendous role models and influences in my personal life as well. My Georgetown family continues to support me until this day and as I embark on my fellowship in Cardiology. I hope to express my gratitude and welcome new members to our family!
Hoya Saxa!
---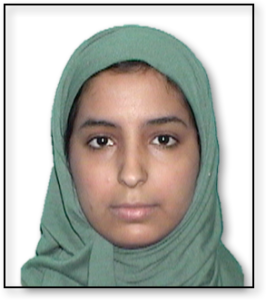 Lama Alhawas, M.S.
Ph.D candidate, Biochemistry & Molecular Biology PhD program, Georgetown University
Georgetown University, M.S. Class of 2014
I was honored to join the Department of Biochemistry and Molecular & Cellular Biology in 2013 to pursue an MS in Biochemistry and Molecular Biology. I had a very challenging yet rewarding experience that exceeded my expectations. We were offered a comprehensive learning experience that covered all the theoretical and practical aspects of Biochemistry. What I really liked the most is that each student was offered the opportunity to tailor their electives towards their area of interest. I tailored my electives towards a cancer biology concentration, and I was privileged to be exposed to the recent trends and findings in cancer research. Attending the Programmed Cell Death course offered by Dr. Rosenthal made me better appreciate the extensive research done on cancer signaling and the intricate intertwined pathways in which tumor cells evade apoptosis. Each student was encouraged to choose their internship positions based on their area of interest. In my internship I got to greatly explore the fundamentals of cancer research and apply what I learned in Biochemistry classes to the real world. The faculty here helped me not only to reach my potential but ignited my enthusiasm to dig deeper for knowledge. They also took all initiatives to guide every student on their career paths. Dr. Rosenthal's main goal was the success of her students and I was able to see that each time I reached out to her for guidance. The faculty and the environment as a whole is very friendly, welcoming and accepting; I must say that I feel very proud to belong here and look forward for the next coming years.
---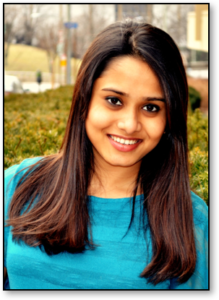 Samiksha Mahaptra, M.S.
Ph.D candidate, Cell Biology PhD program, Georgetown University
Georgetown University, M.S. Class of 2013
My journey at Georgetown University began when I was accepted into the Master's in Biochemistry and Molecular & Cellular Biology program during fall of 2012. I had recently graduated with a Bachelor's degree in Biotechnology from University of Mumbai, India and had an unquenchable thirst to learn all that the world could offer in the field of Molecular Biology. My undergraduate degree provided me with a good foundation in key subjects like Cell Biology, Molecular Biology, Microbiology and Genetics. Although molecular biology was at a very nascent stage in India, that didn't stop me from exploring opportunities abroad to further strengthen my skills on a global platform. Compared to Master's programs at other schools, I found the program at Georgetown University to be very unique and diverse. The best part about this program was the elaborate coursework and the cutting edge research it has to offer. Their intensive coursework helps one build advanced concepts in topics like Biochemistry, Molecular Biology, Cancer etc. The course work at GU is flexible and gives students an opportunity to choose courses based on their preferences. This helps students carve out their perfect career paths to prepare themselves for an academic or industrial setting in the future. Rather than teaching students in a classroom setting, GU offers certain courses that are taught in a laboratory, thus preparing scientists of the future one course at a time. Overall, the Master's program not only broadened my theoretical knowledge but also prepared me to independently work in a lab environment.
During my internship in the second semester, I could apply all the knowledge I gained from my lab and theory classes and saw myself gradually grow into an independent researcher. Internship is challenging. No doubt. But the professors who mentor the students during the whole term of internship teach them important skills such as troubleshooting and analyzing data and results at a much more critical level. Preparing and presenting poster presentations help students develop their writing and communication skills. After my graduation in 2013, I continued my research in the Gallicano lab at Georgetown University working as a full time Research Assistant & Lab Manager. During this time, I was able to bring my prior lab experience and also learn new advanced techniques. I managed day-to-day lab operations, trained technicians, volunteers and students while working on numerous stem cell projects dealing with Diabetes and Cardiovascular Diseases. Further, I had the opportunity to write and present my research at various scientific meetings and conferences.
I am currently pursuing PhD in Cell Biology at Georgetown University. I wouldn't be here today if it weren't for the quality of education, network and guidance I received from the Biochemistry program during my Master's at Georgetown. My interest in Georgetown University was not only because of their excellent faculty but also their innovative biomedical research and collaboration. I was able to obtain a solid foundation in the field of Molecular Biology in order to apply my knowledge to a human disease with clinical need. The director of the Biochemistry Master's program, Dr. Cynthia Rosenthal, has been instrumental in every student's growth over the course of the program. She has always been encouraging and inspiring to all the students, including me. With the cultural diversity at Georgetown, you will have the chance to build friendships and acquaintances with fellow students all over the world, allowing you to broaden your outlook tremendously. HOYA SAXA!
---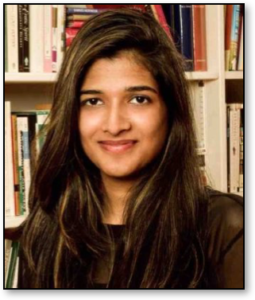 Parnika Kadam, M.S.
Ph.D candidate, Biochemistry & Molecular Biology PhD program, Georgetown University
Georgetown University, M.S. Class of 2014
I started my journey at Georgetown University for a Master's in Biochemistry and Molecular Biology in Fall 2013. During my fourth year of B.Tech in Biotechnolgy, I realized that I wanted to pursue a Master's degree for a better career as a researcher.
I remember browsing through the Georgetown University webpage to apply for Master's in Biochemistry and Molecular Biology. I was impressed by the structure, duration, as well as diverse courses offered by this Program. The perfect amalgamation of classes, lab experience and internship makes this Program perfect for anyone who wants a career in the field of Biology. This Program helped me advance my understanding of Biochemistry, Cell culture, Bioinformatics as well as introducing me to the interesting fields of Structural Biology and Food Biotechnology. This 9-month Master's Program requiring completion of 30 credits has indeed been challenging but the experience was totally worth it.
Some of the courses that focused on hands-on experience like Lab Applications and cell culture helped me to get a lead in my internship project. I particularly loved the way one could select a bunch of electives from a diverse set of courses, giving flexibility. This Program not only enriched me with key concepts of molecular biology but also taught me time- and self-management. Moreover, the cultural diversity of students enrolled with me has added so much more to my knowledge about different cultures and it truly makes me believe that cultural diversity makes one get a better perspective.
The internship requirement of this course is great to have a flavor of research in an industry or lab. This is the time when I was exposed to the nitty-gritty of a research project. I did my internship in Dr. Sandberg's lab during my Master's program. I am currently pursuing a PhD in Biochemistry and Molecular Biology in Sandberg's Lab. I am extremely glad to be a part of this department and a member of Sandberg's Lab. Motivating and interactive professors, excellent courses and wonderful colleagues have made my learning a fun experience. This experience has made me well rounded as an individual as well as a researcher. I am looking forward to continuing my journey in the Department of Biochemistry and Molecular Biology at Georgetown University.
---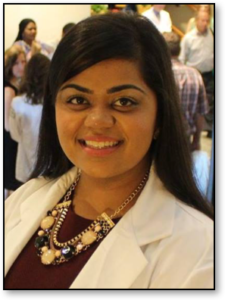 Rima Nakrani, M.S.
Wayne State University School of Medicine, Class of 2019
Georgetown University, M.S. Class of 2015
My experience in the M.S. Biochemistry program has been nothing short of excellent. At first, I was extremely nervous and hesitant to enroll in such an intense, rigorous, and challenging master's program but my uncertainty quickly transformed into utmost gratitude and satisfaction. With each lab, exam, and course, I felt more empowered, knowledgeable, and successful. The structure of the program is such that students become experts in the field of biochemistry, molecular biology and cell biology and at the same time are given the opportunity to polish their research skills and gain vital laboratory experience. Despite having a focus on core concepts, the program was very flexible in allowing me to select electives of my interest, which is where I gained advanced and specialized knowledge on specific topics such as Programmed Cell Death and Carcinogenesis. My most memorable experience is definitely the research internship. I gained extensive research skills and laboratory experience, and can proudly claim to be more adept in the realm of Carcinogenesis, specifically, Breast Cancer. In addition to the excellent curriculum, the heart of the program lies within the esteemed, approachable, friendly, and extremely helpful faculty members. This experience has been paramount in allowing me to form long-lasting relationships with talented faculty members. The faculty truly act as mentors and are always willing to assist students and ensure they are getting the most out of their master's experience. Most importantly, the MS Biochemistry and Molecular Biology program truly prepared me for my professional endeavors. Prior to applying to medical school, I wanted to reinforce my biomedical background and this program has allowed me to accomplish just that and much more. I am currently a second year student at the Wayne State University School of Medicine, and I can say this from experience, that the knowledge and skills I gained throughout the MS Biochemistry and Molecular Biology program truly aided in allowing me to excel in my first two years of medical school, which focused heavily on the Basic Sciences curriculum. In addition, I am currently applying the research and laboratory skills I gained during the program to my research on Intracardiac Thrombi. Overall, I can without a doubt affirm that my journey in this esteemed program has been very fruitful and joyous. I highly recommend this program to those seeking advanced knowledge in preparation for entry into professional programs!
---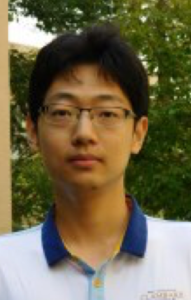 Hengye Chen, M.S.
Ph.D candidate, Biochemistry, Microbiology & Molecular Biology PhD program, Penn State University
Georgetown University, M.S. Class of 2015
Before I came to Georgetown University, I finished my undergraduate study in China. At that time, my English proficiency was poor and I only had a very basic sense of biochemistry and molecular biology. During the first semester, I took several basic lecture and lab courses, which reinforced my knowledge in the field, and I learned a lot of biology terms in English from these courses. In the course Intro to Tumor Biology, I met my research internship mentor Dr. Chunling Yi, who helped me a lot during my internship. My English proficiency improved significantly by the end of the first semester. The second semester was a very busy semester, but I really learned a lot. I took several more classes and my internship began. From the courses in this semester, I had more chances to communicate in a scientific way, which was very helpful and trained me to be a better biomedical researcher. During my internship, I performed molecular tumor biology work, a work experience that was very important for my future career. After graduating from the M.S. Biochemistry and Molecular Biology program, I worked for a year as a researcher in Dr. Yi's lab, and then applied for the Biochemistry, Microbiology and Molecular Biology Ph.D. program at Penn State University. With the knowledge and work experience I acquired from my graduate and undergraduate study, I received an interview invitation from Penn State, and passed the interview. I am currently working for my Ph.D. degree in Penn State University. Dr. Chunling Yi, Dr. Cynthia Simbulan-Rosenthal, my M.S. program director, and my undergraduate mentor Dr. Dong Yang all helped me during the Ph.D application process, and wrote recommendation letters for me, for which I am very grateful.